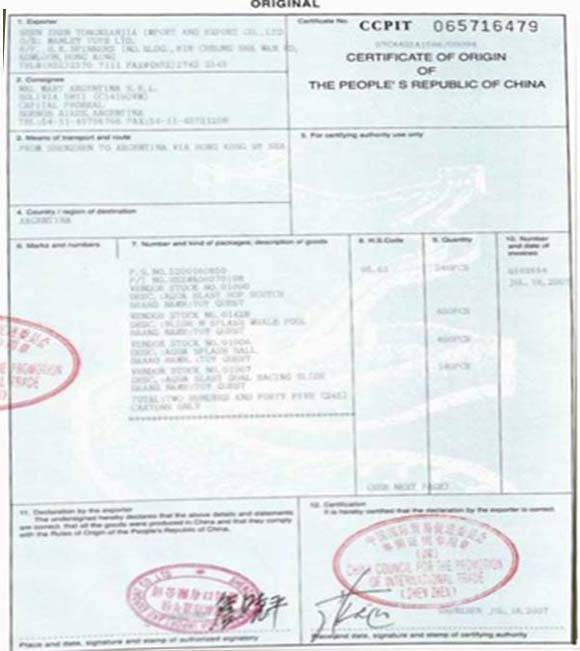 Certificate of Origin
The Certificate of Origin (CO) is a certificate used to certify the producing and manufacture place of export products, a certificate of nationality of goods in international trading. In the specific conditions, import countries will provide different tariff treatment according to the CO. In China, all exporting products that follow the "Regulation of Place of Origin for Import and Export Commodity in People's Republic of China" could apply for General Certificate of Origin.
In the international trading, counties from all over the world, on the basis of their own foreign trade policies, generally practice import control policies such as different tariff and quantity limit, and carried out by customs. Import countries demanding export countries to provide CO of commodities has become a international practice, therefore CO is one of the most important certificates in international trading. Its purposes are boiled down as follows:
(1) Important tool for deciding on tariff treatment and help increase market competitive edge
Most countries now are applying different custom duty rate upon imported commodities from different countries. The difference always depends on commodities' place of origin while CO is an effective certificate for customs to decide on tariff and treatment. If there are any agreements about tariff between governments of import and export countries regulating Agreed Customs Rate in form of terms, or regulating Most Favored Nation Clause in the agreements, buyers would always request sellers to provide effective CO to prove the origin of imported commodities being the agreement-contracting country, so as to get relevant duty rate treatment.
(2)  Evidence of products' inner quality or settlement of exchange
In the international trading, general CO also works as an evidence of commodities' inner quality increasing the competitive edge. For instance, in the international market, silk with CO from China could offer a much better price than silk with CO from other counties.
(3) Reference for trade statistics
Customs of all countries are bearing the responsibility of counting import and export commodities, and the CO is a very important reference for customs to calculate the commodities.
Certificate of Origin Picture: