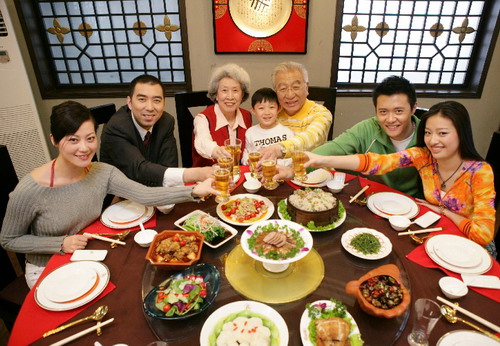 If time permits, you should wait for most guests to come before ordering the food. And when doing it, you should pass the menu around the table and ask the guest to order whatever they like. Of course, for official banquet you may have concerns about the expenses. To get the budget under control, the important thing is to do background check and find the right place in advance. A restaurant will immediately give the guest a rough idea about your budget. If you are going to pay the bill, generally out of courtesy concern the guest would not order the food, they will leave the decision to you. Never ask your boss to order the food unless he or she volunteered to do so, otherwise the boss will feel rather indecent. And if you are invited to the banquet you should know better than display too much enthusiasm in ordering the food. If the host insists that you should order something. Do remember to order something do not go against anyone's special diet yet reasonably priced. Before ordering, you should ask around the table is the food to everyone's liking, making the others felt that they are being taken care of. And you can finish your ordering by saying "I've ordered XXX, I hope you would enjoy it", or "Do you have anything special in mind?" When ordering food, you must gather the full situation and you can always follow the 3 tips.
1. The General practice is to order food according to the number of people at the banquet (each person should have a dish), and if there are many male guests, more food should be ordered accordingly
2. Ordering a balanced meal. It is better to serve both the meat and vegetables, and both the hot and cold dishes. If there are many male guests, then more meat dishes are necessary. And if there are more female guests, more vegetables should be ordered.
3. Taking the importance of the banquet into consideration. For ordinary business dinner, 50 yuan to 80 yuan per dish is acceptable. If the guest is of great importance, the several high-grade dishes, for example lobsters, saucy, and anchovy, should be ordered. And if the banquet is for the top-class guests, expensive delicacies such as abalone and shark fin should be ordered for the occasion.
Another point to note is that when ordering dishes, you should neither ask nor haggle over the price. Otherwise it will make you look rather petty in front of the guests.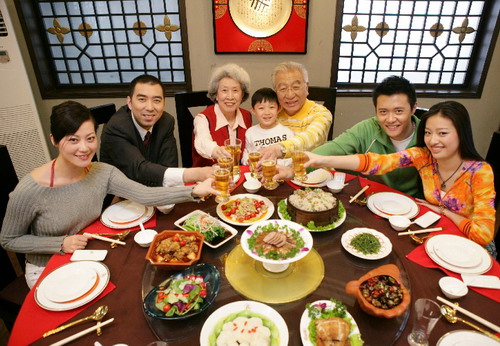 Guide for Ordering Food in China
A standard Chinese meal usually starts with cold cuts, followed by stir-fries, main courses, staple food, soup and dessert if you feel the main dishes are a little bit oily. The meal usually finished with a fruit platter. When ordering food, this process should be taken into consideration.
When ordering food, priority should be given to the following dishes:
1. Traditional Chinese Food. When entertaining foreign guests of the time, traditional Chinese food always seems to be the winner. Foods like deep-fried spring rolls, sugar-filled glutinous rice balls, steamed dumpling, lion head, and kung pao chicken are no expensive or rare food, but they are much adored by foreigners for their rich Chinese flavor.
2. Local Delicacies. Foods like Xian Cruded Pancake in Mutton Soup, Hunan Mao's Home Style Braised Pork, Shanghai Braised Meat Balls in Brown Sauce and Beijing Instant-Boiled Mutton are much better than the seafood dishes, when entertaining foreign guests at local places, these local delicacies seems can win more praises.
3. Specialty of the restaurant. Many restaurants have their own specialties. A specialty of the restaurant can show host's thoughtfulness and respect to the guests.
 
Beside, when ordering food, you have to consider the dietary taboos of the guest and special attention need to be paid to the dietary taboos of the guest of honor.
There are mainly four types of dietary taboo demanding our special attention.
1. Religious Dietary taboos. Do not neglect Religious dietary taboos. For example, Muslims neither eat pork nor drink wine; domestic Buddhists seldom eat animal products, which not only refer to the meat, but also include foods with pungent odor, such as scallion, garlic, fragrant-flowered garlic, mustard, etc. When entertaining compatriots from Hong Kong, Macao and overseas Chinese, you have to consider the dietary taboos of some Buddhists that believe in Guanyin. This group of converts is especially forbidden to eat beef.
2. Health and Safety Concerns. When entertaining guests, you should not provide dog meat to guests who suffered from ailment like heart disease, cranial vascular disease, arteriosclerosis, hypertension and stroke; Hepatitis patients are forbidden to eat mutton and turtle, at the same time, the digestive disorders like gastroenteritis and stomach ulcers do not fit to eat turtle too; High blood pressure and high cholesterol patients should not drink chicken soup, etc
3. The Food preference varies with areas. You should give full consideration to this. For example, guests from Hunan province prefer spicy food to sweet foot; The English speaking country seldom eat pet, rare animal, animal's viscera, head and paw. In addition, when entertaining foreign guests, you need to know the foreigners do not like to spit the food out, so make sure to avoid bony food. 
4. Dietary taboos for different occupation. It is forbidden for civil servants to accept an invitation to dinner when they are on duty, to have a lush banquet exceeding the dinner standards prescribed by the state and to drink alcohol. In addition, driver must not drink wine during working hours, offering alcohol to them would be very wrong.