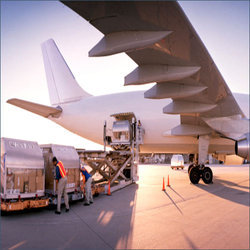 1. Consigner fill in shipping order, instruct the shipping agent to make cargo reservation.
Then send all necessary documents for exportation and custom clearance to shipping agents. Goods will be picked up with arranged vehicles or delivered by consigner to an appointed place, and be seriously checked together with documents.
2. Declare to customs
(1)Documents for declaration are generally commercial invoice, packing list, inspection certificate, goods declaration for exportation, and sometimes animal and plant quarantine certificate or certificate of origin, and verification form of export payment of exchange, export contract, etc.
(2)Airway bill will be made after customs' checking and stamping on the declaration.
(3)To staple the accompanying documents provided by consigner to the airway bill. A manifest needs to be made if it is consolidated cargo. Put the manifest together with all house airway bills and accompanying documents into an envelope and stapled to the airway bill.
(4)Make shipping labels and place them on each cargo. If it is consolidated cargo, house airway bills labels are also necessary.
(5)Take airway bills to customs to declare and be approved.
(6)Hand in the approved and stamped airway bill together with cargos to the airline company to check. If there's no error, the airline company will sign on the bill.
(7)Details such as flight number, airway bill number, name of goods, and number of packages, gross weight and consignee should be informed to overseas freight forwarder when it is consolidated cargo.
3.The connection of export transportation between foreign shipping company at the port and inland company:
(1)Inland company should inform the port company the name of goods, number of packages, gross weight and time requirements, and make house airway bills, which together with other documents should be delivered or accompanied with cargos to the port companies.
(2)Inland company delivers cargo in required time and place to the port.
(3)The company at the port should appoint an exclusive person to receive the cargo.
(4)Company at the port is in charge of booking shipping space and informing inland company the flight number, bill number or master bill number. Inland company should record the flight and bill number on house airway bills and give them to consigner to carry out the settlement of exchange.