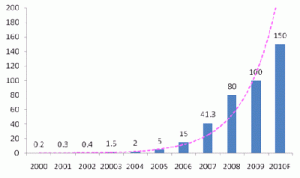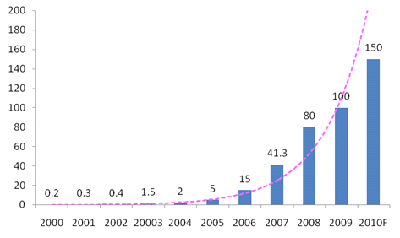 In recent years, China's fine chemical industry witnessed a rapid development. The base and the scale of chemical industry park keeps on expanding, and the foreign capital is entering the Chinese market at an ever-increasing speed. Over the "Eleventh Five-Year" period, annual growth rate of sales revenue and gross profit of China's fine chemical industry maintained at 15%, ushering in a new stage characterized by comprehensive, multi-level and wide-ranging liberalization, competition and development. And in the "Twelfth Five-Year" period, with the accelerated pace of China's economic transformation, fine chemical industry is also facing a structural adjustment and product innovation. It is expected that by 2015, China's fine chemical production value will reach 1.6 trillion Yuan, more than doubled in 2008. Fine chemical products' self-sufficiency rate will amount to 80% or more, gradually making China embark on the road of becoming one of the world's major fine chemical powers.
Large yet not Strong, the Industry Needs Urgent Transition
Ever since the 1990s, along with the of petrochemical industry's development toward deep-processing and the booming of high-tech, fine chemical industry in the world witnesses an unprecedented rapid development, its growth rate significantly higher than the entire chemical industry. In recent years, total sales of chemical products worldwide approximately amount to $ 1.5 trillion, among which fine chemicals and specialty chemicals account for $ 380 billion, with an average annual growth rate of 5% to 6%, which is 2-3 percentage points higher than the chemical industry. According to related statistics, at present, the total varieties of the world's fine chemicals amount to more than 100,000 kinds. At present, the fine chemical industry is very developed in the United States, Western Europe and Japan, representing the development standard of fine chemicals in today's world. Among them, the U.S. fine chemicals annual sales is approximately $ 125 billion, ranking first in the world; Coupled with Europe and Japan's fine chemicals, with annual sales of 100 billion U.S. dollars and $ 60 billion respectively, the total annual sales of the three countries account for more than 75% of the world's total sales. And their application of sophisticated technology has reached 60% to 70%.
After years of development, China's fine chemical has become an important independent branch of China's chemical industry and new economic growth point, which has formed into 20 to 25 categories, among which the pesticides, dyes, paints, reagents, photographic materials, and chemical medicine industry has experienced a large-scale development. Besides, the industry of feed additives, food additives, industrial surfactants, water treatment chemicals, paper chemicals, leather chemicals, oilfield chemicals, electronic chemicals, bio-chemical, functional polymer and others are also beginning to take shape.
During the "Eleventh Five-Year" period, China listed the fine chemical industry as one of the six areas enjoying prioritized development, and makes the following sectors as major field of development during the 11th Five-Year period: functional coatings and waterborne coatings, dyes, new varieties of its industrialization, an important chemical intermediate green synthesis technology and new varieties, electronic chemicals, high performance water treatment chemicals, paper chemicals, oilfield chemicals, functional food additives, high-performance environment-friendly flame retardants, surfactants, high-performance rubber and plastic additives, which further broadens the application field of fine chemical products. And the products have developed into a sophisticated, complex, comprehensive and functional direction.
According to incomplete survey, at present in China there are more than 8,000 fine chemical production enterprises. The production of fine chemical products amounted to more than 30,000 kinds, and the annual production of which amount to about 13 million tons, with the annual output of about 390 billion yuan and a sophisticate rate of 40%. However, at present, although China has become the largest producer of fine chemical products, its traditional fine chemical industry such as pesticides, dyes, paints, rubber processing are still facing a dilemma of 'large volume yet poor quality'. Besides, they constitute a low proportion in the core final chemical industry, and suffer from a series of problems such as identical industrial structure, low-level redundant construction, and lacking in R & D investment, which pose as serious impediment to the development of the industry. Overall, the product structure of China's petroleum and chemical industry is still mainly falls in low-end products and generic products, while high-end and special products constitute only a small proportion. Viewing from an overall perspective, fine chemical industry in China is in urgent need of transferring mode of development and embarking on the developmental path driven by innovation.
Targeting at the High-End Products to Enhance the Products Competitive Power
On May 27 ~ 28 " , during the 12th Five-Year Petroleum and Chemical Industry Conference, i.e., the 2011 China Chemical Industry Park Development Forum held in Beijing, the China Petroleum and Chemical Industry Association released the " 12th Five-Year Petroleum and Chemical Industry Development Guide" and more than 20 industries (special project) planning program to deploy the industry with a new development concept. Li Yongwu, president of the China Petrochemical Association, pointed out at the meeting that during the next five years, the China Petroleum and Chemical Industry must take a new path to industrialization, accelerate the transformation of development mode, and vigorously develop strategic emerging industries and high-end products to further enhance the capacity of energy saving and environmental protection and to achieve a healthy and sustainable development.
It is understood that many chemical companies in China are in great efforts to develop technology-intensive, exquisitely processed, and high value-added chemicals. They count on high-end fine chemical to enhance the industry competitiveness. According to Wang Weixing, Head of the Safety and Environmental Protection Department of the Juhua Company, the company now has centered upon 4 new fields: new materials, new energy, new environmental protection approach, as well as new usage. They have invested nearly 3 billion yuan in fluoride materials, new fluorine refrigerant, and new safety packaging materials, fluorine-containing electronic chemicals, fluorine-containing Special Functional Materials, special petrochemical materials, high-end equipment manufacturing, street area thermoelectric transformation. All these eight projects have begun at full capacity and keep developing in the direction of high-end, fine, and differentiated product. At present, the construction of first-phase of the Hydro plant TCE capacity expansion project, civil engineering and equipment installation have been in place. The new packaging expansion project will be basically completed in the fourth quarter. And the zero-level reconstruction of PVDC resin VDC monomer and electrolyze are also in rapid implementation.
In accordance with the "12th Five-Year" development planning of the Zigong City, and the development strategy of China Chemical Industry Group, Hao Hua Honghe Chemical under the China National Chemical Group would move to Zigong's Beach Industrial District to create a Zigong industrial base, where fine chemicals accounted for 70%, while the basic chemical industry accounted for 30%. As an environmentally friendly emerging industrial base, it planned 16 projects with a total investment of over 10 billion yuan, which had been planned for five years for the construction be completed. According to Xie Xuerui, chairman of the Hao Hua Honghe company, the new industrial base is expected to be built since June 2012, which will be focused on the construction of technology production lines and supporting projects of tetrachlorethylene, environmental-friendly refrigerant, special engineering plastics and Stewed alkali and so on, with its focus on the development of chlorine chemicals and fluorine chemicals, in order to build a new industrial structure with the CFC chemical as its core industry and create a new chemical park worth 10 billion yuan.
In November this year, Ningbo Zhejiang Railway Jiangning Chemical Co., a wholly owned subsidiary of Zhejiang Jiangshan Chemical Co., Ltd. held a grand ceremony for 80,000 tons / year maleic anhydride and derivatives integration project in Ningbo Petrochemical Economic and Technological Development Zone, marking Jiangshan Chemical Ningbo Base 's official launch of construction. It is understood that the materials used are refinery byproducts, and its downstream products are related with new materials such as PBT, PBS, all that has conform to Zhejiang Province and Ningbo's industry development plan. Technically, it has introduced international state-of-the-art N-butane oxidation solvent absorption process from U.S. Huntsman Company and Maleic anhydride esterification hydrogenation of BDO process from Davy Process Technology. Therefore, it is more advanced and enjoys more competitive edge than other devices of the same industry in various aspects such as safety, environmental protection, energy economical efficiency. As a result, it can promote the Jiangshan chemical to achieve the transition from basic chemical raw material manufacturers to new chemical materials industry leader in Zhejiang Province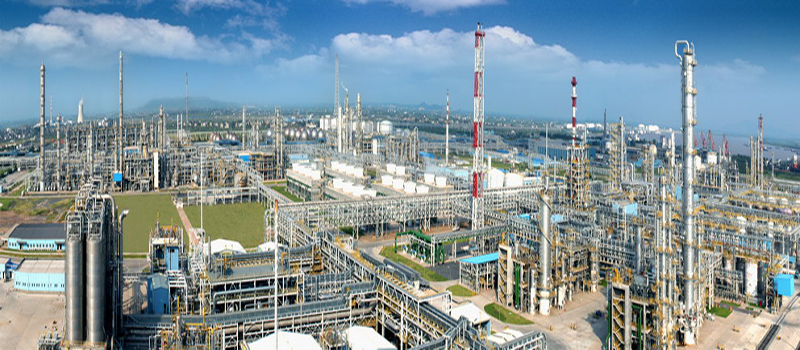 Chemical Industry Park Boost Industrial Development
The fine chemical industry falls into numerous categories and involves a wide range of aspects; therefore, industrial policy has a great influence over it. Viewing from the perspective of structural adjustment and technological progress, the establishment of the Chemical Industry Park with the fine chemical as its feature, as well as giving preferential policies in favor of the base, will be conducive to the upstream and downstream of the fine chemical industry convergence, making it be better able to promote the development of the industry.
In recent years, many provinces and municipalities have made the construction of Fine Chemical Zone an important measure in adjusting the layout of the local chemical industry, developing new materials industry, and promoting the industrial agglomeration.
In the mid-1990s, taking the chemical characteristics and basis into consideration, China established 15 fine chemicals production base including Nantong , Suzhou , Wuxi and Zhongshan, Fushun , Xiangtan , Taizhou , Huzhou , Luzhou , Deyang , Wuhu, Binzhou , Kaifeng , Xinji, and Shashi. At present, apart from these bases, large-scale petrochemical park in Shanghai, Nanjing , and the Daya Bay, New chemical materials and fine chemical park in Nantong, Taixing , and Changshu, as well as Emerging Chemical Industry Park in Shaanxi, Ningxia and other provinces have added to our major industrial park. Judging from the industrial layout , most of the fine chemical production in China are located in Zhejiang, Jiangsu, Shandong, Shanghai , Tianjin and Guangdong and other coastal areas. By the end of 2010, there are about 3000 chemical industry park and chemical center completed or under construction. Among them, more than 60 are National Chemical Industry Park, especially in Shanghai, Jiangsu Province and regions along the Yangtze River, where there are more than 10 large-scale professional chemical industrial park, among which the Shanghai Chemical Industry Park, Nanjing Chemical Industrial Park are both National Chemical Industrial Park; besides, chemical industry in Zhejiang has also experience rapid development. Nesting zones of chemical industry has also formed in Ningbo and Shangyu. Most of these chemical parks are involved in the fine chemical industry.
Taking the Nanjing Chemical Industrial Park for an example, the park relies on the platform of Torch Plan in the region of Nanjing on building fine chemical industry base and actively develops the group in line with national industrial policies. It has enjoyed a broad market prospect in new materials, new energy, life sciences and high-end fine chemical products and has introduced advanced products of the Industry giants such as Swiss Ciba Specialty Chemicals, the German DyStar Company and Wacker company, Nalco Company(USA.), Albemarle Corporation(USA), Longza Company (Swiss), forming competitive advantages in the field of fine chemicals. Through vigorously introducing international capital, and actively promoting industrial upgrading and structural optimization, by 2015 the Nanjing Chemical Industrial Park will develop into a top world-class petrochemical industry base featuring advanced manufacturing, modern logistics and transport, as well as high-tech industry. With China's highest degree of industrial agglomeration, the most advanced technology and the best ecological environment.
In the eastern city of Ningbo, Zhejiang Province, although the Zhenhai District was only 246 square kilometers, the chemical planning area constitutes 43.22 square kilometers, making it an important chemical industry base in Zhejiang Province and east China. After seven years of development, its industrial chain efficiency and regional environmental results has been in the forefront of the domestic similar chemical areas, attracting more than 20 million businesses from Akzo Nobel (Netherlands), Aekyung (South Korea), and Linde Gas (Germany). On January 6, 2011, approved by the State Council, the district is officially improved as National Economic and Technological Development Zone. In the future five years, the region will invest 100 billion yuan in developing specialty industries, high-tech industries and high value-added services, and the total industrial output is expected to reach 400 billion yuan, becoming the leading area of national petrochemical and new materials industries.
The Core of Development Shifts to Technological Innovation
Faced with unfavorable factors such as complex international macroeconomic situation and the industry cyclical downturn, strengthening technological innovation, adjusting and optimizing the structure of the fine chemical products, as well as focusing on developing high-performance, specialized, green products, has become important features of the current development of fine chemicals, revealing the future direction of the development of China's fine chemical industry.
On the 2011 China International Petrochemical Conference held in September this year, president Li Yongwu pointed out that there has been a surplus in traditional products, while at the same time, there exists a serious shortage in high-end chemical products and some high-tech products are still in the blank, relying heavily on import.
Technological innovation plays a crucial role in the development of fine chemicals. Take Japan, a well-developed Fine Chemicals power for example, in the past10 years, the market for Nippon Synthetic dyes and traditional fine chemicals reduced by half, replaced by a large number of functional and greener high-end fine chemicals, Thereby greatly enhancing the level and economic efficiency of the fine chemical industry. For example, by focusing on development of functional fine chemicals in the field of semiconductor and flat panel displays, Japan has established a dominant position in the field of high-end products of the information recording and displaying materials. In terms of the catalyst, with the increasingly stringent environmental regulations, to meet the needs of the sulfur-free gasoline and other environment-friendly fuel, Japan develops new environmentally friendly catalyst in real earnest. At present the ultra-deep desulfurization catalysts and other high-performance catalyst occupies a very high share in the catalyst industry in Japan. The desulfurization capacity grows from less than 50?g / g to less than 10 ?g / g, which also contributed to the overall development of the catalyst industry. Meanwhile, sales of catalyst used in petroleum chemicals and automobile exhaust purification also grow at double-digit rates, accounting for half of the catalyst market. Japan catalyst production and sales last year were up by 7% and 5% respectively, breaking the record of the past six years.
In the future next five years, as China gradually increase the emphasis on the degree of the fine chemical industry; fine chemical industry in China is bound to enjoy great development. We should appreciate that the issuance of the 12th Five-Year Petroleum and Chemical Industry Development Guide will foster the development of strategic emerging industries as the main task, this guide proposed that by the end of the 12th Five-Year period, we will form a number of growth point with the strategic new industry as the lead, and we should enhance the rate of fine and specialty chemicals to more than 45%. The new chemical materials, high-end specialty chemicals, biomass energy, bio-chemical and bio-based polymer materials, the new coal chemical are all classified as direction for development. Meanwhile, in view of the profit decline of the traditional chemical products, the Guide pointed out that it will make the upgrading of traditional industries as a main task of the of structural adjustment. Besides, the guide also requires that differentiated development strategies be applied in three major synthetic materials, and organic chemical raw materials, which would be transferred from the popular type to the tailor version, meanwhile, we should improve the access threshold of structural surplus industry such as high methanol and calcium carbide industry, besides, we should strictly control the volume, speed up development of new technologies , new varieties, and extend the product value chain. Experts said the development of strategic emerging industries requires a lot of supporting fine chemical products industries, which will enhance the fine chemical rate to generate a large thrust of China's independent innovation capability of the fine chemical and our industrial strength will thusly be significantly improved